IBus Cangjie in your own language
By bochecha on Sunday, March 10 2013, 16:32 - Permalink
Cheng-Chia Tseng recently opened a ticket in the IBus Cangjie bug tracker, submitting a Taiwan Chinese translation.
This is itself is pretty awesome, but we didn't stop there: Cheng-Chia helped me set up a Transifex project for IBus Cangjie.
That means it should now be very easy for translators all around the world to translate IBus Cangjie into their own language.
I copy-pasted his zh_TW translation into a zh_HK one, because Taiwan and Hong Kong translations are usually very similar. So even if this is not perfect, it is still much better than nothing. Also, a zh_CN translation is being worked on.
This is fantastic. From the very beginning, IBus Cangjie was made to enable people to benefit from Free Software on their computer. But until now, they had to be able to read English.
Thanks to Cheng-Chia's efforts, this is what Hong Kong and Taiwan people will see: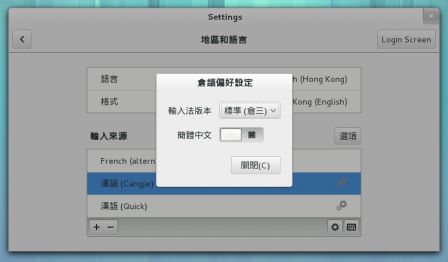 Cheng-Chia, you rock!